Rod bolts are cleaned and checked for proper length and diameter to ensure they are not stretched. Rod bolts are always replaced on marine, high performance and classic car engines (subject to availability) with new ARP high tension rod bolts.
Connecting rod assemblies are angled to ensure straightness. Damaged or out-of-round journals are restored to OEM specifications: rod caps are cut to reduce the journal height before being installed back on the connecting rod. The now oval journal is honed perfectly round within OEM specifications.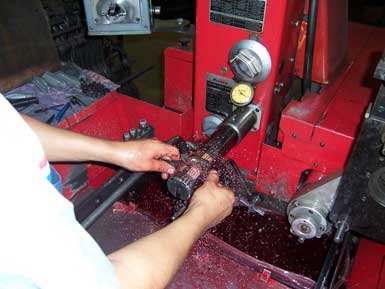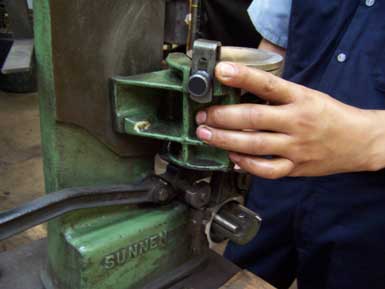 Since this procedure reduces the overall connecting rod length for about 0,005 inches/0,127 millimeters most of the added compression due to cylinder head resurfacing is being eliminated.
Finally the new pistons are being installed on the refurbished connecting rods. Two different types of pistons are known: pressed pin or floating pin style.
Pressed pin installation requires the piston pin bore to be expanded. This is achieved by heating the connecting rod bore and instantly installing the pin and piston on the rod. Once the connecting rod is cooled down the pin is being held in place by pressed fit. The piston pin is locked inside the rod bore while the piston is floating on the pin.
Floating pin installation is achieved by a connecting rod bore with an installed pin bushing. The pin is installed with lock rings inside the piston while the connecting rod is rather floating on the pin.